Many of us browse the World Wide Web regularly and wonder how we can stake a claim on the Internet, like many of others have done already, then web hosting is one term which can satiate your need. In this vast array of information, Internet is one word, which can cater to all kind of genre as per their taste. And, by web hosting one can own a portion of the web. But, web hosting is not just getting a portion of the web, but also involves different other services. This article will give you an insight of the terms web hosting and web development.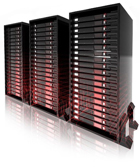 www:
World Wide Web or the www written before every web address is the web of computers connected through a HTTP protocol. This network connects millions of computers all over the world through this single protocol. HTTP (Hypertext Transfer Protocol) is a language through which the documents are transferred. HTTP is not a synonym to Internet, because it is a network of networks, where computers communicate with protocols other than HTTP. Web page is what you see on your Internet browser. These web pages have to come from a certain host and this is the area, which talks about web hosting. NB: It is clearly understood that if some one registering domian with us we are never goining to provide domain control panle, like other service provide do like vsnl. For the Domain control panel the clients need to pay $200 per domain


Web Hosting:
Web pages are your source of information; whatever you see in your web pages has come from a web browser. All these web pages are stored in computers called web servers. A web hosting service is a kind of Internet hosting service that allows the individual or company to hold a stake of the internet and provide own websites accessible via the World Wide Web.
Web hosting gives the freedom of having own website services but it's restricted because of the space. One needs to have appropriate hardware and software to host web pages. Specific companies provide web hosting capabilities on their web servers. Moreover, one needs to register a domain name that exclusively identifies the website. Web hosts can also provide data centre space and connectivity to the internet.


Which Web Hosting is for you?
Web hosting is provided as per the need of the holder. It is basically divided into following categories:
1. Free Web Hosting: it is done by large website companies, which provide limited space for free. This kind of hosting is limited when compared to paid hosting.
2. Shared Web Hosting: This is the most economical hosting service where many people share the total cost of maintenance services.
3. Reseller Web Hosting: This service allows the client to host websites. This needs an affiliation with the provider.
4. Virtual Dedicated Server: This is dividing a server into virtual servers. Every user thinks he got a dedicated server but in real they all share a particular server.
5. Dedicated Hosting: In this the user gets own web server and has full control over the server.
6. Collocation Web Hosting: This is similar to dedicated hosting but in Collocation, the hosting company provides physical space. This is the most powerful and costly web hosting service.
7. Clustered Hosting: In this service multiple servers host the same content for resource utilization.
Domain Name Registration:
Domain name registration is the first step in launching an online business. It is the name of your business, your identification mark, as the total web address is your online contact address. Hence domain name choice should involve in depth market research and business knowledge. Ironically, domain name seems to be an easiest task for online business, but it has to be effective and should influence the target audience. A well-chosen domain name can foster your business in various ways one of them is by increasing search engine traffic. Domain name registration is a vital work while setting up a new business, so here in this article you can find several guidelines to consider while choosing an appropriate domain name.

Right Extension:
Extensions are the .com, .in, .net, .org, .info, etc. All of these extensions can be easily searched by the search engines. But it is always the .com which is most popular and widely used. If you get a domain name with .com extension, you can increase its chances of popularity. This extension looks more legitimate and common.

Keywords:
Choice of domain name should involve right keywords. These keywords can only make your website search engine friendly. Be careful while choosing right keyword for your domain name, it should have relevance and searched by your target audience. Absurd or out of the box domain names sometime work but if you target your genre then it will definitely generate desired results. Consider the recall capability of your visitor, hence choose short domain names, this gives your visitor ease of recalling your domain name. Avoid your company name, unless you have your keywords inserted in it. If your name is not searched then there's no point making it your domain.

Relevancy:
Be pertinent in your approach. Whatever name you want to register make sure it has some relevance with your business. Search engines will recognize your worth only when they find you legitimate and relevant. Your domain name registration depends on your extension and the sign up time, so be cautious while spending your money. Make your site look relevant to your visitor. Avoid using other company's trademark and copyrights in your domain name. It is illegal to use copyrights and trademarks. Even if you get your keyword featured in other company's trademark, but you cannot use it as your domain name.
Search engines have a lost and found service for websites, if you have relevant domain then you are found and if you don't then you are lost. Your domain name registration requires consideration and appropriate research. Domain registration is easy but important to be done well.